Refugees from Syria have changed the cultural makeup of Germany's capital in a way not seen since the 1960s.
Tarek Hamad picked up the razor and set about shaving the back of the young man's head without even asking. After working at the barbershop on Berlin's Sonnenallee for more than three years, Hamad said he knows exactly what his clients—many migrants from Syria like himself—require.
"It's just like back home," said Hamad, 27, a Palestinian born and raised in a Damascus refugee camp. "We know how to trim beards better than the Germans do. But they're better with color."
Known locally as "Arab Street," Sonnenallee may be the closest thing to home for many Syrians. They can buy halal meat, fresh pistachios and cream-and-nut filled sweets from vendors who speak their language. Women can find hijabs and female-only hairdressing salons. Men can pray at mosques and meet up at cafes that recreate the feel of neighborhoods back home.
Yet Sonnenallee also has a political resonance as Berliners prepare for the impending departure of Chancellor Angela Merkel. The street is one of the most visible symbols of her legacy and the ongoing challenges of integrating a new community.
Merkel's decision to open Germany's borders to 1 million refugees in 2015 caused a rift in Europe and proved a fillip for anti-immigration parties. It also changed the cultural makeup of the German capital in a way not seen since the proliferation of Turkish workers in the 1960s.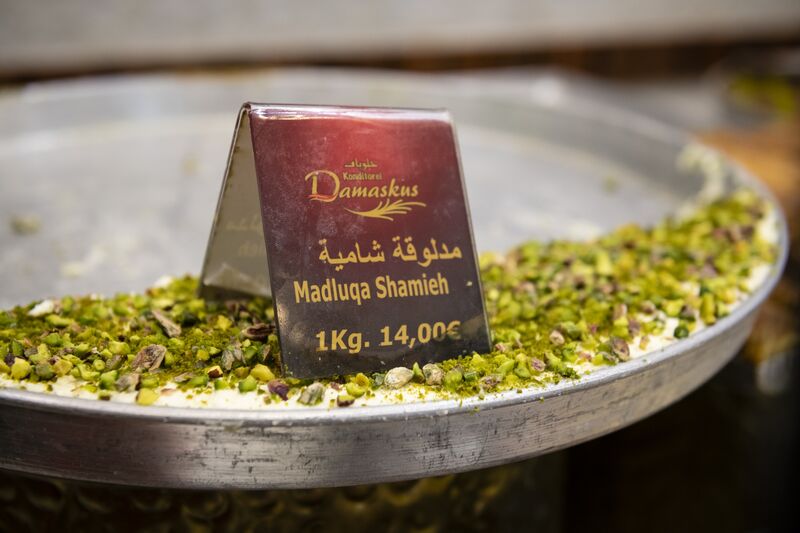 While Sonnenallee has always been home to ethnic minorities, mainly Lebanese and Turks, it now feels more like little Syria. Many of the migrants have found work in the restaurants, shops and travel agencies that line the leafy street once divided by the Berlin Wall. And for those who miss Syria, a quick visit brings them close to the tastes and smells of home.
"When you set foot in the street, you forget you're in Germany," said Yaman Azimeh, a 21-year-old Palestinian who moved to Berlin from the Yarmouk refugee camp in Damascus as a child.
Indeed, for many eating, working and shopping on the five-kilometer-long boulevard, the federal elections on Sept. 26 that ultimately will decide who succeeds Merkel take a backseat to discussions of events in the Middle East.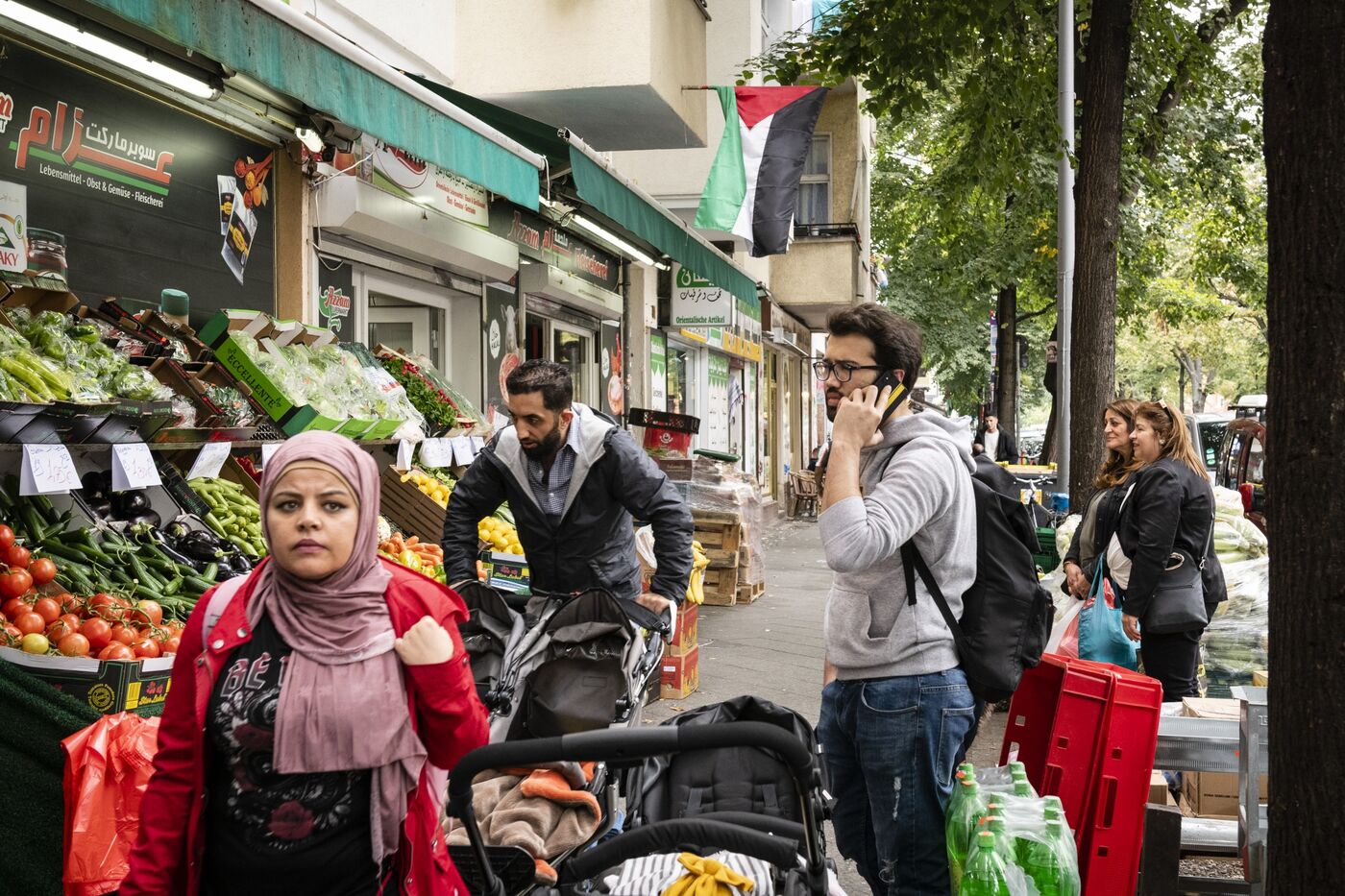 Merkel may have been the leader who got them here, yet the irony is the political machinations barely register. When asked about the vote, the response was almost universal: "What elections?"
Merkel's refugee policy dominated the last election campaign in 2017. While she ultimately won, support for her ruling conservative bloc was depressed and helped the anti-immigration AfD party secure 13% of the vote.
Immigration returned briefly as a topic as the chaotic departure from Afghanistan dominated the news last month. The campaign has since turned back to core topics such as climate change and the country's recovery from the pandemic.
That said, it could present a challenge to the incoming administration. There remain concerns about areas like Sonnenallee and the level of engagement among its new population, said Markus Ziener, a professor of journalism at the University of Applied Sciences in Berlin. "It would be better if the refugees are more integrated, if they speak the language, if they feel more like being part of our German culture," he said.
Ibrahim Mohammed, 49, and Mohammed Mando, 55, illustrate the cultural divide. As they chatted outside a shop that sells baklava and other Syrian desserts, the men both said they came to Germany in 2015. Mohammed learned German while Mando did not.
Mohammed said he hopes to become a train driver. He said his command of the language allows him to follow German politics and have opinions on the parties running in the elections.
The Social Democratic Party is good because it wants to raise the minimum wage, he said. He also likes the Green Party's promise to impose speed limits on highways. As for Merkel's party, the Christian Democratic Union, "They're not bad," he said, as the smell of grilled chicken wafted from a nearby restaurant. "After all, they let us in."
Mando, a carpenter who is out of work because of kidney problems, said he's too worried about his wife and four children who are in Jordan to bother about learning the language or integrating.
Whenever he feels lonely, he drops by Sonnenallee "just to see people," the friends he's made over the past few years from different parts of Syria. "This street reminds me of the good old days in Syria," he said.
At the same time, like many Syrians, he's come to appreciate the many things Germany has to offer. For him, it's the treatment for dialysis that he gets and freedom of speech, though it took him three years to finally believe it exists after growing up in a dictatorship.
At a nearby boutique, a Syrian woman who's been in Germany for decades, was at first relaxed enough to speak about how she now orders more wedding dresses with flouncy fabric and gowns with glitter and sequins to cater to the migrants' tastes. She clammed up after her sister in Syria, on speakerphone, cautioned her about talking to a reporter.
For other Syrians in Berlin, it's a similar story: Berlin is a haven, but the gravitational pull of home is never far away.
On Turmstrasse, just over 10 kilometers northwest of Sonnenallee, many Syrians remember the social center where they had to register when they first arrived. The area is now home to many Syrian restaurants and shops, though they don't dominate the way they do on Sonnenallee.
Mustapha Naim, 28, who works for a security firm, recalls how lost he felt when he first arrived. Having a kunafeh, a dessert made with shredded filo pastry and cheese, with two Syrian friends, he said it was a dark period.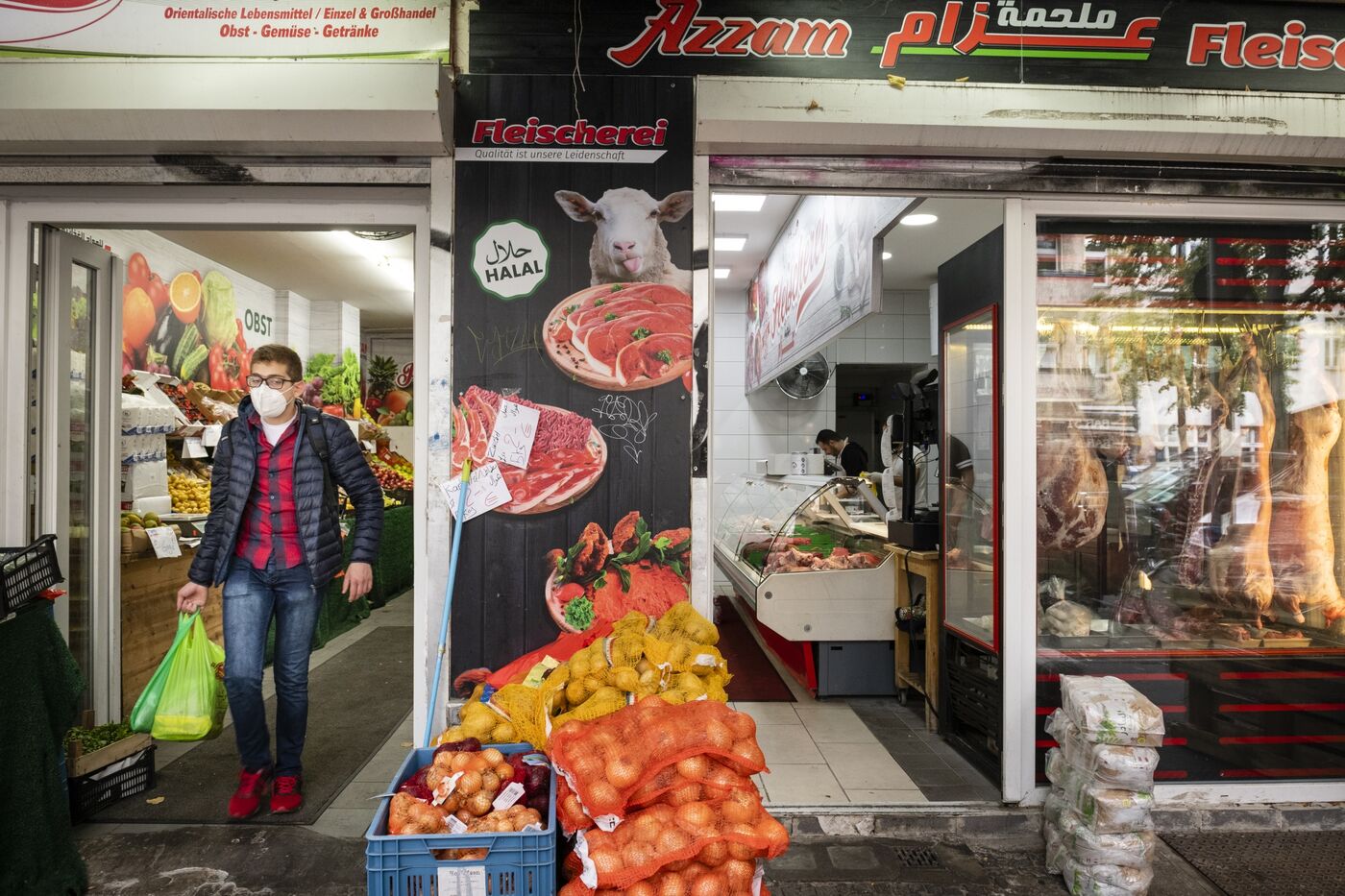 Naim said he doesn't intend to go back to Syria and is grateful for what Germany has offered him. But he said he sees no future in Berlin for himself or his future family. His dream is to take German citizenship and live in Cairo. "There's a difference between children who grow up with the sound of the azan — the Muslim call to prayer — and those who grow up here," he said.
Abdul-Karim al-Absi, 26, nodded in agreement. He treasures his experience in Germany, including a newly acquired appreciation for other cultures and women's rights, but draws the line at raising a family in a non-Muslim country. "We were born again here into a new culture, a new language and a new order," said al-Absi. "But I don't want my daughters to date or my children to drink alcohol."
So does he ever go to Sonnenallee when he feels homesick? "Never," said al-Absi. "The people who go there are still in Syria, Lebanon, Palestine. They're not integrated."
Bloomberg