A Syrian father and son both missing limbs, whose feature in an international award-winning photograph inspired a fundraiser to relocate them to Italy, arrived at Rome's Fiumicino airport on Friday.
Turkish photographer Mehmet Aslan's image which captured the hearts of the judges as well as photographic enthusiasts around the world shows Munzir Al-Nazzal standing on one leg and using a crutch while lifting his young limbless son Mustafa Al-Nazzal into the air as they look at each other.
Five-year-old Mustafa was born without most of his limbs due to a congenital condition, tetra-amelia, which was caused by medications Mustafa's mother, Zeynep Al-Nazzal, took to counter the nerve gas sickness she suffered during conflict in Syria.
His father lost his leg during a bomb attack.
Now they are set to receive medical aid in Italy where the whole Al-Nazzal family will begin a new life.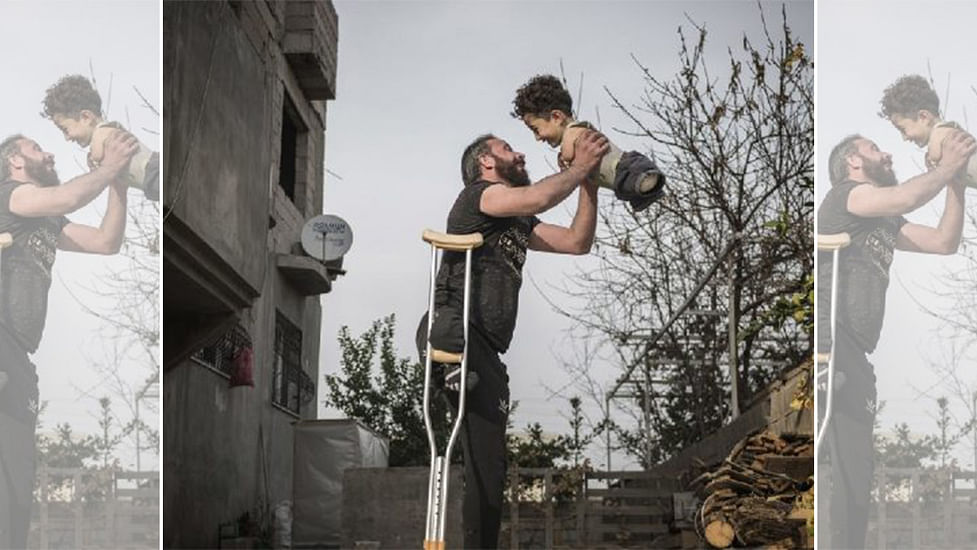 The founder of the Siena International Photo Awards, Luca Venturi, was at the airport to meet the family and prove the power one single image can have.
"Can a picture make the difference?" he questioned.
"Well, the evidence is that, if we didn't have this picture, none of this would have happened to this family," Venturi added.
The photo was picked out from thousands of entries and brought the Al-Nazzals' story to hundreds who donated to their fund.
"We simply thought to follow up to the media resonance generated by the picture by the Turkish photographer," Venturi said.
"Then we started this dream. And this dream brought us here today to welcome his family."
Munzir had promised Mustafa that he would at some time be able to attend school, although at the time it was possibly a promise he didn't know how to deliver.
"For Mustafa there is this dream to go to school, (...) his father kept promising him that this dream would come true one time or another," Venturi said.
AP