Abdel-Hamid al-Hassadi survived the devastating flooding in eastern Libya, but he lost some 90 people from his extended family.
The 23-year-old law graduate rushed upstairs along with his mother and his elder brother, as heavy rains lashed the city of Derna on the evening of Sept. 10. Soon, torrents of water were washing away buildings next to them.
"We witnessed the magnitude of the catastrophe," al-Hassadi said in a phone interview, referring to the massive flooding that engulfed his city. "We have seen our neighbors' dead bodies washing away in the floods."
Heavy rains from Mediterranean storm Daniel caused the collapse of the two dams that spanned the narrow valley that divides the city. That sent a wall of water several meters high through its heart.
Ten days after the disaster, al-Hassadi and thousands of others remain in Derna, most of them waiting for a word about relatives and loved ones. For Hassadi, it's the 290 relatives still missing.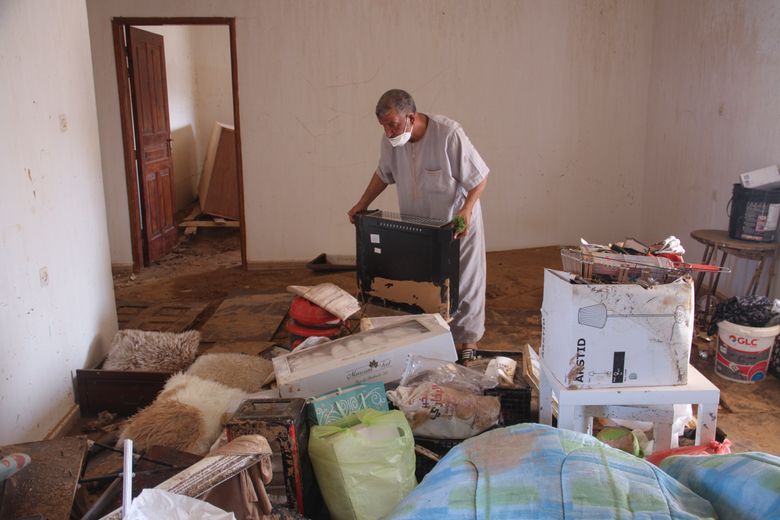 The floods inundated as much as a quarter of the city, officials say. Thousands of people were killed, with many dead bodies still under the rubble or at sea, according to search teams. Government officials and aid agencies have given varied death tolls.
The World Health Organization says a total of 3,958 deaths have been registered in hospitals, but a previous death toll given by the head of Libya's Red Crescent said at least 11,300 were killed. The U.N. Office for the Coordination of Humanitarian Affairs says at least 9,000 people are still missing.
Bashir Omar, a spokesman for the International Committee of the Red Cross, said the fatalities are in the thousands, but he didn't give a specific toll for the number of retrieved bodies, since there are many groups involved in the recovery effort.
Many Derna residents, including women and children, are spending all their time at collection points of bodies. They are desperate to know who is inside body bags carried by ambulances.
Inside a school in the western part of the city, authorities posted photos of the retrieved bodies.
Anas Aweis, a 24-year-old resident, lost two brothers and is still searching for his father and four cousins. He went to the Ummul Qura school in the Sheiha neighborhood to inspect the exhibited photos.
"It's chaos," he said after spending two hours waiting in lines. "We want to know where they buried them if they died."
The floods have displaced at least 40,000 people in eastern Libya, including 30,000 in Derna, according to the U.N.'s migration agency. Many have moved to other cities across Libya, hosted by local communities or sheltered in schools. There are risks to staying, including potential infection by waterborne diseases.
Rana Ksaifi, assistant chief of mission in Libya for the U.N.'s refugee agency, said the floods have left "unfathomable levels of destruction," and triggered new waves of displacement in the already conflict-stricken nation.
The houseplants on the rooftop of Abdul Salam Anwisi's building survived the waters that reached up to his 4th-floor apartment. Anwisi's and a few other families rode out the deluge on the roof, which overlooks the Mediterranean Sea. They thought they wouldn't live to see daylight. Now, as he sifts through the water-damaged debris of his home, it's unclear what comes next.
"God predetermined and he did what he wanted," he said.
Others across the country are calling for Libya's leaders to be taken to task.
Hundreds of angry protesters gathered Monday outside Derna's main mosque, criticizing the government's lack of preparation and response. They lashed out at the political class that controls the oil-rich nation since the ouster and killing of longtime dictator Moammar Gadhafi in 2011.
The North African country plunged into chaos after a NATO-backed uprising toppled and killed Gadhafi. For most of the past decade, Libya has been split between two rival administrations: one in the west backed by an array of lawless militias and armed groups, a second in the east, allied with the self-styled Libyan National Army, commanded by Gen. Khalifa Hifter. Neither government tolerates dissent.
Derna, as well as east and most of south Libya, is controlled by Hifter's forces. However, funds for municipalities and other government agencies are controlled by the rival government in the capital, Tripoli.
Al-Hassadi, the law graduate, blamed local authorities for giving conflicting warnings to residents, leaving many defenseless. They asked residents to evacuate areas along the Mediterranean coast, but at the same time, they imposed a curfew, preventing people from leaving their homes.
"It was a mistake to impose a curfew," he said.
The dams, Abu Mansour and Derna, were built by a Yugoslav construction company in the 1970s. They were meant to protect the city against heavy flooding, but years of no maintenance meant they were unable to keep the exceptional influx of water at bay.
Many Libyans are now calling for an international investigation and supervision of aid funds.
"All are corrupt here ... without exception," said rights activist Tarik Lamloum.
AP